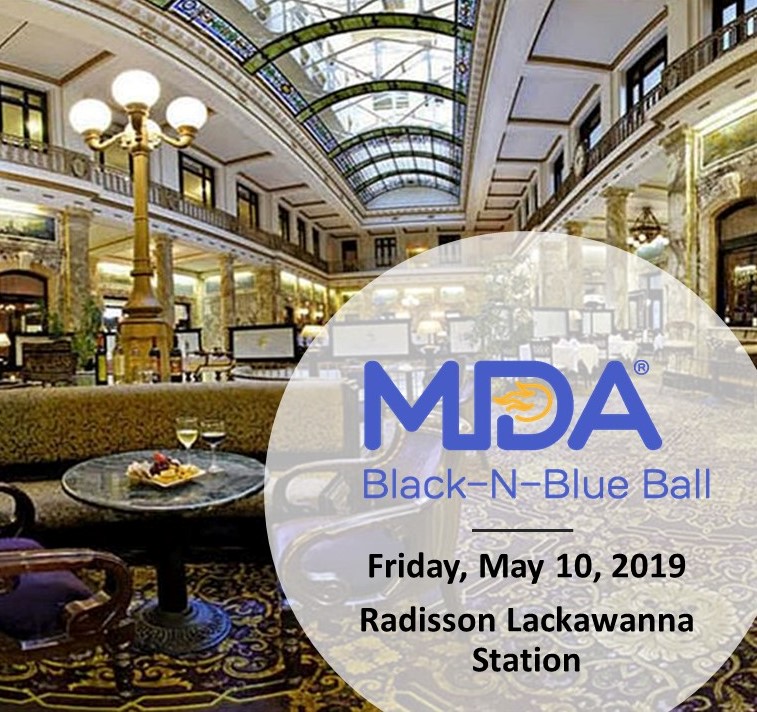 Eagle Cleaners is honored to be a proud sponsor of this event.
The night's itinerary:
6:00-7:30 PM Cocktails
8:15 PM Live & Camper Auction and Raffle Drawing
9:00-11:00 PM Dancing to the music of "Into the Spin."
Sponsorships and tables are now available for purchase. Please contact Katrina Schreefer at 610-391-1977 or kschreefer@mdausa.org.
Attire: Black tie to blue jeans to everything in between!
The Black-N-Blue Ball is a casual atmosphere that mixes denim and leather. This event gives guests the opportunity to experience a uniquely different night out! The Black-N-Blue Ball has a "dare to be different" appeal. Over 500 of Northeast Pennsylvania's finest community members, business leaders and MDA families are expected to experience this magical evening of dinner, entertainment and hope for those living with neuromuscular disease.
Muscular Dystrophy Association (MDA) is a voluntary health agency working to defeat 43 neuromuscular diseases, including ALS, also known as Lou Gehrig's Disease. The funds raised by the Black & Blue Ball provide help and hope to children and adults affected by neuromuscular diseases. MDA has led the field in research since the 1950s and is moving full-speed ahead on the Road to a Cure. With the generosity of the Black & Blue Ball guests and donors, MDA is able to make the following services possible.
2019 Honorees:
Honoring Peter J. Danchak of PNC
Wings of Life Recipient Angela Ferri of PNC
Junior Wings of Life Recipient Anthony Brominski