Eagle Cleaners
Eagle Cleaners' History
Eagle Cleaners, located in Clarks Summit, PA, has been a community staple in the Abingtons since 1997. The owners, the Croft Family, have been known for making their customers feel like family for over two decades.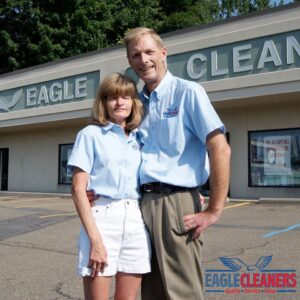 Buddy Croft began working at Eagle Cleaners in 2000 where he started his career as the Plant Manager, learning everything he knows from his parents and previous owners, Clyde and Jody Croft. Buddy and his wife, Kathy, took the reins from Buddy's parents in 2013. Buddy and Kathy remain committed to the meticulous detail and superior customer service that has characterized Eagle Cleaners since its beginning.
Quality, Service, Value
The Crofts have worked hard to establish a professional, yet family-like atmosphere.
"Our mission is to give an exceptional customer experience through quality, service & value." Buddy Croft said. "It's all three of those. It's a triad that's put together to give that whole customer experience. That's why they keep coming to us."
They abide by their motto, "quality, service, value" every day with every customer. The quality of their professional cleaning is second to none. Their customer service is known for being exceptional, with knowing almost all of their customers by first name. Their services are affordable.
Dry Cleaning Done Right & On Site
From business attire to household items to leathers and suede, Eagle Cleaners does it all and does it well, on site. They have established a professional yet personal relationship with area customers who rely on our efforts to keep their items looking fresh. Once your garments leave your hands, they remain on premises until returned back to you, expertly cleaned.
In addition to drycleaning and laundry, some of their specialty work includes:
Wedding Gown Cleaning and Preservation
Boot and Shoe Cleaning and Repair
Horse Blankets
Wash and Fold Laundry Service
Leather & Suede
Eagle Cleaners has also committed to using a plant-based, non-toxic, biofriendly solvent made by Kreussler Inc. "We keep your clothes clean and the Earth green!"
Community Involvement
Since 1997, Eagle Cleaners has taken pride in being part of our customer's memorable moments. They believe it's important to support the community in which we live and work. Eagle Cleaners is proud to partner with many organizations here at home in Northeastern Pennsylvania. They include:
Cinderella's Closet of NEPA
Equines for Freedom
Marine Corps Reserve Annual Toys for Tots Campaign
Marley's Mission
National Breast Cancer Foundation, Inc.
Muscular Dystrophy Association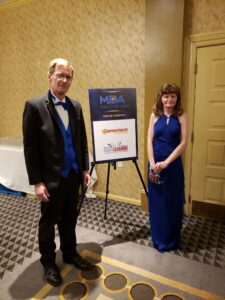 "Our customers are truly wonderful people. They're very giving, they're very friendly, and they give their hearts to the community. They've helped us throughout the years in the efforts that we've done to help local community efforts." Buddy Croft said. "The generosity of our customers goes far above anything I've ever seen."
New Customers
Now that you've learned so much about Eagle Cleaners, we'd love to have you try us out! All new customers recieve 25% off their orders for 30 days!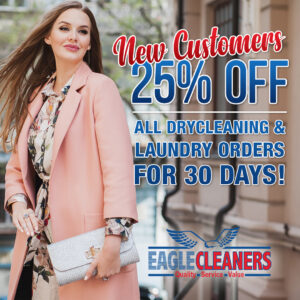 Mention this blog to redeem offer. We hope we get to make #TheEagleDifference in your life!